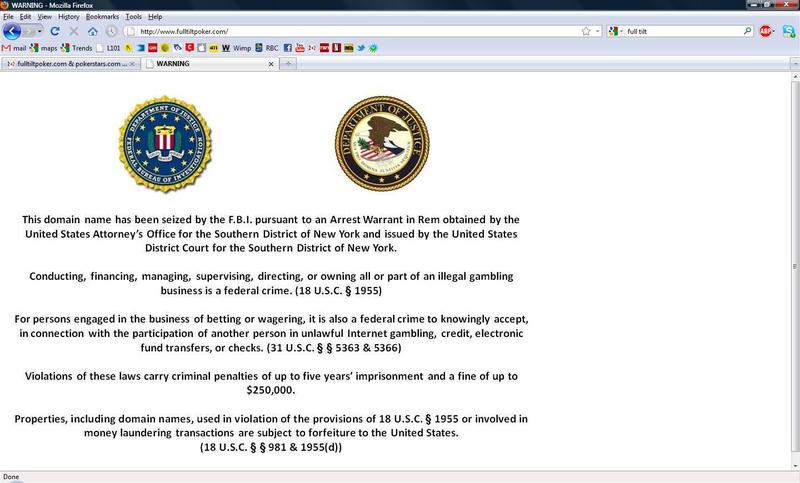 The FBI has seized the main internet domains of the biggest US-facing poker rooms and charged its owners and managers with fraud, money laundering and illegal gambling.
Executives at PokerStars, Full Tilt Poker, UltimateBet and AbsolutePoker have been charged with several felonies such as illegal gambling, money laundering and fraud. The main internet domains of these poker rooms were seized and now show an FBI notice. The FBI apparently also seized or froze more than 75 bank accounts of poker payment processors located in the US.
The main subjects of the charges are eleven poker executives such as Isai Steinberg of PokerStars and Raymond Bitar of Full Tilt Poker. Thus far there have been two arrests in the US, but neither are thought to be poker executives. The other defendents aren't currently on US soil according to a statement by the US Department of Justice. If arrested and convicted, the defendants could face very significant fines and possibly even jail time.
The orginial Twitter message released by news agency Reuters reads: "Three Largest Internet Poker Companies Charged With Fraud, Illegal Gambling – Pokerstars, Full Tilt Poker, & Absolute Poker – Charged".
18:30 GMT durrrr comments
Tom Dwan writes on Twitter: "I long ago realized that laws replaced common sense in every day government, however I still thought n hoped the regulation of billion dollar industries was usually done in a logical fashion."
18:34 GMT PokerStars Traffic declining
Kevmath from the US, editor at Bluff Magazine and 2+2 moderator reports: "Last 10 minutes or so, Stars has dropped 15k players".
18:36 GMT PokerStars doesn't allow any US players
ESPN reports via Twitter that several US players are facing problems while connecting to PokerStars.
18:44 GMT Onyx Cup?
The first Full Tilt Poker Onyx Cup is scheduled to take place in May in Las Vegas. Discussions are heating up on Twitter whether or not this will still go ahead.
18:50 GMT 11 managers charged
Wall Street Journal reports that a total of 11 managers from several poker rooms has been charged.
18:53 GMT Over 75 accounts frozen
The Wall Street Journal further reports that over 75 bank accounts of companies linked to poker rooms have been frozen.
18:56 GMT Poker rooms are facing up to 3 billion USD in fines
According to Forbes, poker rooms are facing fines up about 3 billion US dollar.
19:03 GMT The names of the 11 managers charged
The names of the managers charged can be found in the charging document here: Isai Scheinberg, Raymond Bitar, Scott Tom, Brent Beckley, Nelson Burtnick, Paul Tate, Ryan Lang, Bradley Franzen, Ira Rubin, Chad Elie und John Campos.
19:08 GMT nanonoko comments
Online legend and PokerStars Pro nanonoko said on Twitter: "hmm...might need to consider buying from the value menu again at McDonalds if things don't work so well".
19:10 GMT Poker rooms used "fraudulent methods"
The charging document states "...used fraudulent methods to avoid restrictions and to receive billions of dollars from United States residents who gambled."
19:13 GMT Charges of money laundering
The document also states that poker rooms "...also engaged in massive money laundering and bank fraud. Foreign firms that choose to operate in the United States are not free to flout the laws they don't like simply because they can't bear to be parted from their profits."
19:17 GMT PokerStars, FTP, UB and AP scammed customers according to FBI
Janice K. Fedarcyk of the FBI said: "These defendants, knowing full well that their business with U.S. customers and U.S. banks was illegal, tried to stack the deck."
19:19 GMT Allegedly, poker rooms bribed and lied to banks
Fedarcyk: "They lied to banks about the true nature of their business. Then, some of the defendants found banks willing to flout the law for a fee. The defendants bet the house that they could continue their scheme, and they lost."
20:01 GMT Major witness uncovered?
As businesinsider.com reports, the main source of the intelligence the FBI optained in regard to how the accused poker rooms processed deposits, used to be one of the service providers of these poker rooms. Daniel Tzvetkoff allegedly worked together with PokerStars and Full Tilt Poker before scamming them several hundreds of thousands of dollars.
As a legal claim to get the money back failed, the poker rooms tipped off US authorities when he landed on US soil, leading to his arrest. Businessinsider.com also reports that he then cut a deal with the authorities, reverse-engineered the payment processing of the poker rooms and subsequently provided the information that is now used to substantiate the charges against the rooms and their managers.
20:27 GMT Statment from the PPA
"On behalf of the millions of poker players across the country, we are shocked at the action taken by the U.S. Department of Justice today against online poker companies and will continue to fight for Americans' right to participate in the game they enjoy. Online poker is not a crime and should not be treated as such. We are currently gathering all of the information around today's announcement and will offer detailed analysis when the full facts become available."
21:58 GMT The Micros respond to the issues
Link to the video.
22:20 GMT Phil Galfond: "Try not to freak out"
Phil Galfond via Twitter: "Whatever is gonna happen is gonna happen. All we can do is try to voice our support for online poker, and then wait and see. (...) Try not to freak out..."
22:26 GMT Also durrrr remains rather cool...
... and posts on Twitter: "99.93 might be a little high lol, but I wouldn't be worried about getting paid. Might take a little time. Goodluck if ur not on ftp/ps ;("
22:40 GMT Complete indictment is online
Click here to read the document.
00:40 GMT PokerStars.eu
PokerStars hosts their website now at
www.PokerStars.eu
and says that "there is no change in general" for players outside the USA.
02:57 Wynn Resorts end cooperation with PokerStars
The partnership between casino magnate Steve Wynn and PokerStars has been ceased as it was announced in a statement issued by Wynn Resorts.
05:30 Statement by Full Tilt Poker CEO
Raymond Bitar, CEO at Full Tilt Poker, offiicially confirmed that his poker room is no longer accepting US players. He adds: "I am surprised and disappointed by the government's decision to bring these charges. I look forward to Mr. Burtnick's and my exoneration".
Saturday, 13:15 GMT Erick Lindgren still in the mood for jokes
Team Full Tilt Poker Pro Erick Lindgren writes on Twitter: "This is all clearly the fault of @RealKidPoker [Daniel Negreanu]. I told him if he ever started beating online poker the world would end."
http://www.pokerstrategy.com/news/world-of-poker/LIVE-TICKER:-PokerStars,-Full-Tilt-Poker,-UB-and-AP-charged-in-US_45040/